Artificial Grass Installation in Shavano Park, TX
Take back your free time and enjoy year-round luxury and vibrance in Shavano Park, TX with artificial grass from SYNLawn San Antonio. For years, the team from SYNLawn San Antonio has been the number one choice for synthetic grass installation as a result of its ultra-realistic appearance, advanced technologies, and environmental benefits. We are the first provider of plant-based artificial grass in Shavano Park and throughout Texas, which is perfect for a comprehensive list of applications. Our SYNLawn synthetic grass eliminates traditional maintenance, endures virtually all weather conditions, resists fading, and is safer for children as well as pets.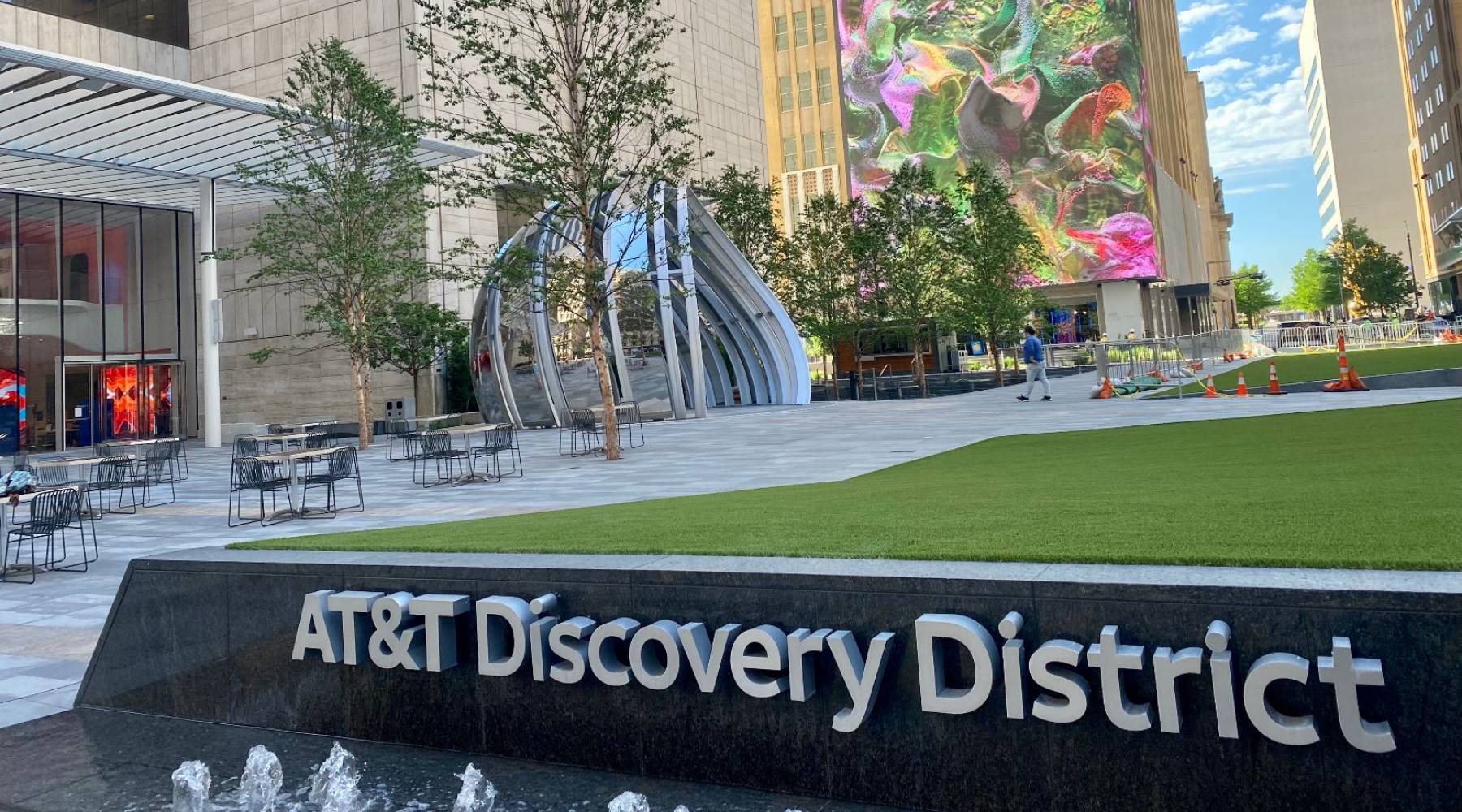 In addition, SYNLawn San Antonio is part of an initiative to increase the development, purchase, and use of bio-based products. To make this possible, we work closely with American farmers and source renewable materials, such as sugar cane, in our Super Yarn turf fibers and soybean oil found in our EnviroLoc+ backing system. As a result, we also became the first to offer USDA-certified synthetic grass, highlighted for its use of 60-80% bio and plant-based materials.
Commercial Installation of Synthetic Turf in San Antonio, TX
Commercial property owners in Shavano Park, TX understand the importance of making a strong first impression with their landscape. One thing that can prevent this is an unkempt front lawn or storefront. Fortunately, SYNLawn San Antonio helps remove this variable altogether with commercial artificial grass that looks absolutely stunning for years. Business owners do not have the time to consistently maintain their lawns, especially if they experience heavy foot traffic on a daily basis. With our superior durability, resistance to high activity, and advanced technologies, your landscape will not shift, shed, or collect mud if the weather is unfavorable. Our team has instilled years of research and development into our products and provides elite customer service. We are licensed and insured to work on multimillion-dollar commercial projects and will ensure your satisfaction from start to finish.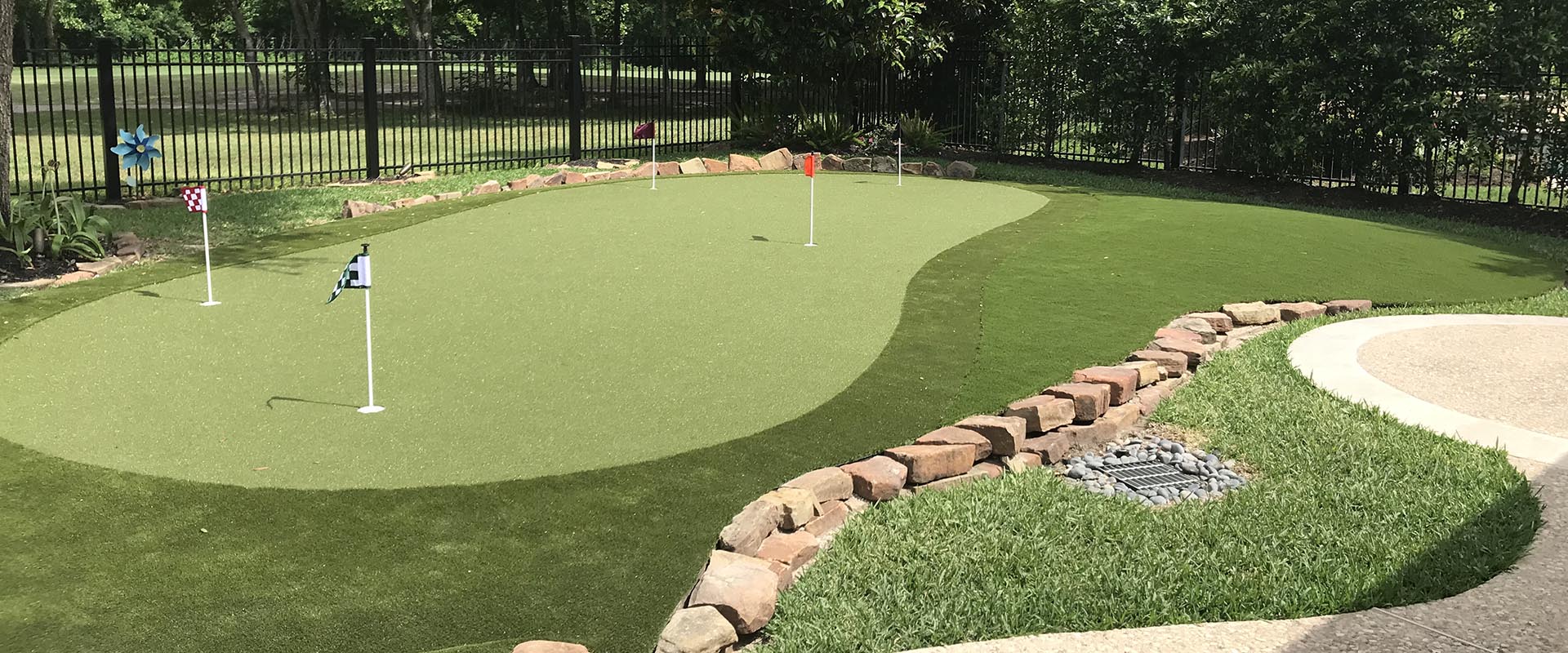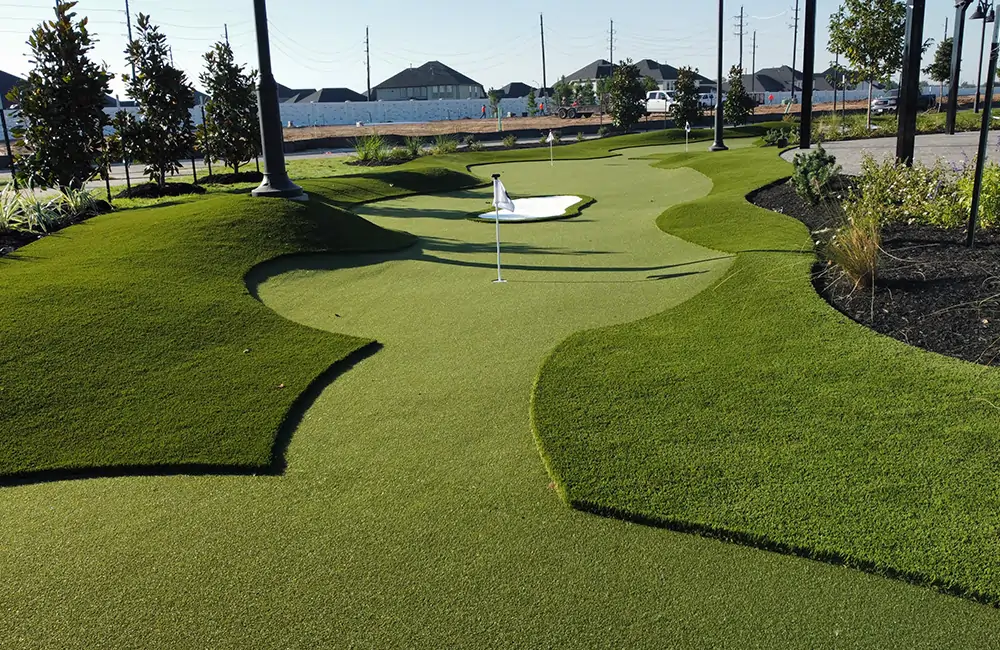 PGA-Caliber Shavano Park Putting Green Turf
At SYNLawn San Antonio, our team helps residential and commercial properties design their dream golf course, putting green, and more with state-of-the-art golf greens in Shavano Park, Texas. We proudly collaborate with professional golf coach Dave Plez and our GreenMaster™ certified installers to provide PGA-performing golf turf that is perfect for all ages and skill levels. Benefits of our synthetic golf greens include:
Made in the USA with the highest quality artificial turf in the industry
Shock absorption padding to provide the most realistic ball bounce
Customize with sand traps, bunkers, LED cup lights, and more
Realistic putt with true ball roll and natural slow-down characteristics
Can only be installed by GreenMaster™ certified SYNLawn employees
Effective drains in each cup prevent backfill of water and mold
Increased performance and lower scores
Superior durability
Eco-friendly materials made in the USA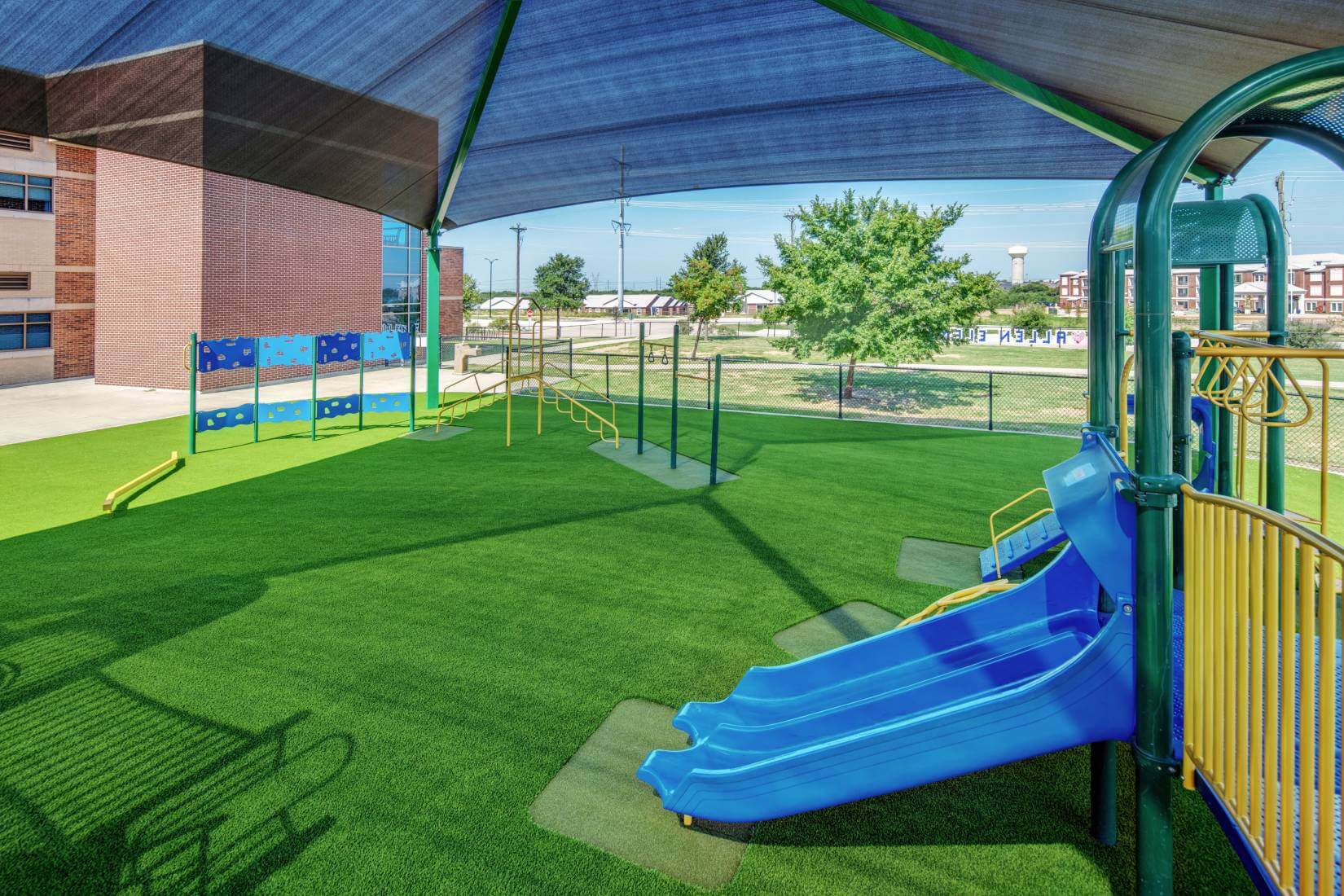 Playground and Athletic Turf Systems
At SYNLawn San Antonio, we make safety one of our highest priorities. We offer turf that is IPEMA-certified for playgrounds and athletic surfaces. We have independently laboratory-tested our synthetic grass to meet proper fall height attenuation and can help cushion falls up to ten feet. Athletes can confidently practice and train to master their sport on our non-abrasive and shock-absorbing athletic turf that will help prevent common injuries and abrasions. In addition, you will feel confident knowing that children of all ages can play safely and will be able to avoid infections, such as staph, thanks to our integrated use of Sanitized® antimicrobial. This highly effective solution eliminates up to 99% of bacteria found on grass surfaces and helps prevent algae and fungal growth that can aggravate respiratory allergies.
Shavano Park & Fake Grass for Dogs
Pets are a very special part of our lives, and because of that, we always want them to be happy and healthy. This means being certain that they get proper exercise and playtime. However, if you have conventional grass, this also means repairing your lawn frequently. At SYNLawn San Antonio, our artificial pet grass is designed specifically with dogs and pets in mind. Our EnviroLoc+ backing system prevents pets and unwanted pests from digging holes and chewing grass and provides the highest rate of drainage to allow for immediate use after coming in contact with liquids of any kind. In addition, our pet systems feature the odor-controlling top dressing or infill, Envirofill®. Our Envirofill® prevents the ammonia in pet waste from turning into gas, leaving behind odors that will deter guests or customers. Having a proper infill will also allow your turf blades to stay in a more upright position for a consistent, ideal appearance.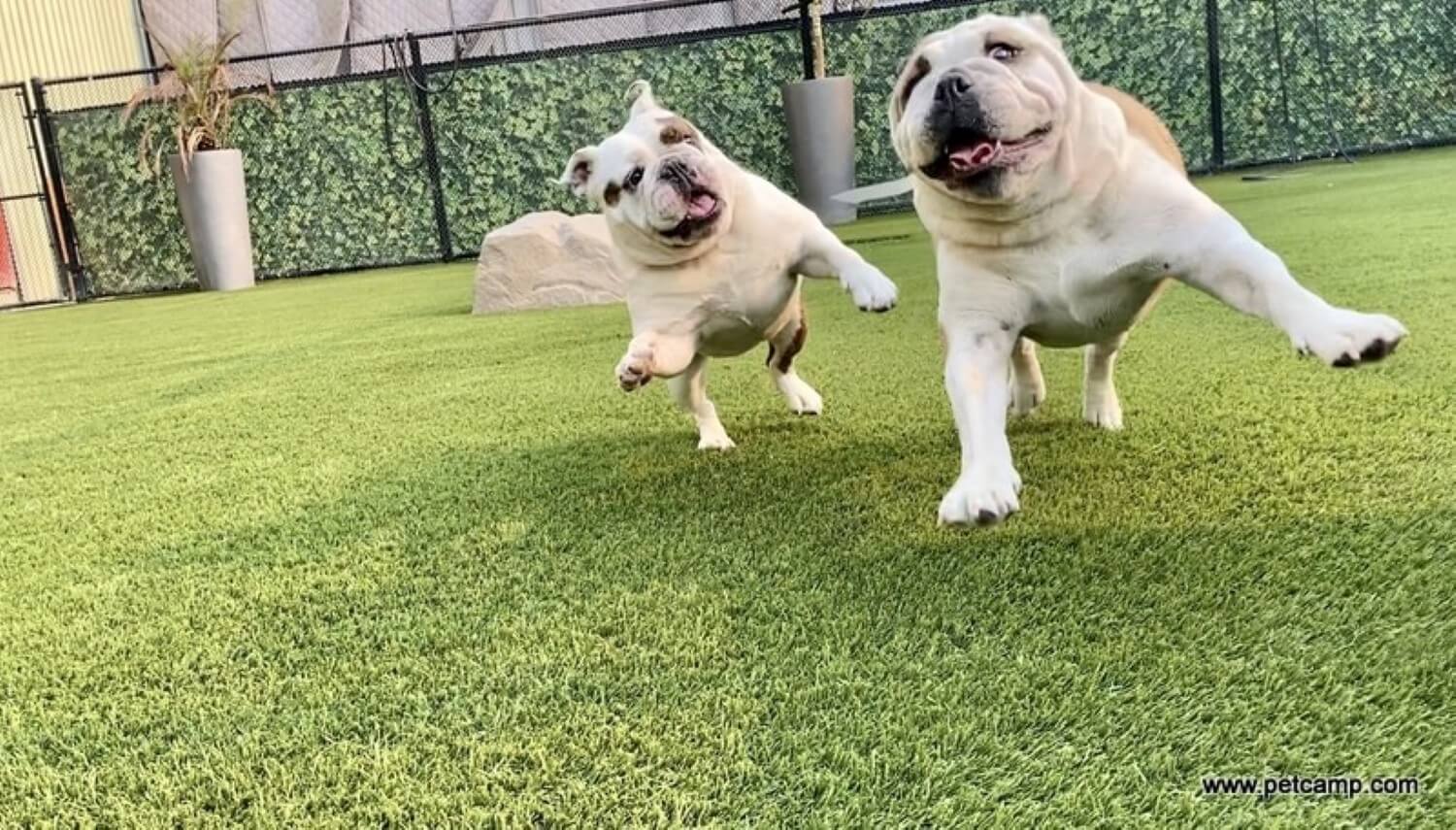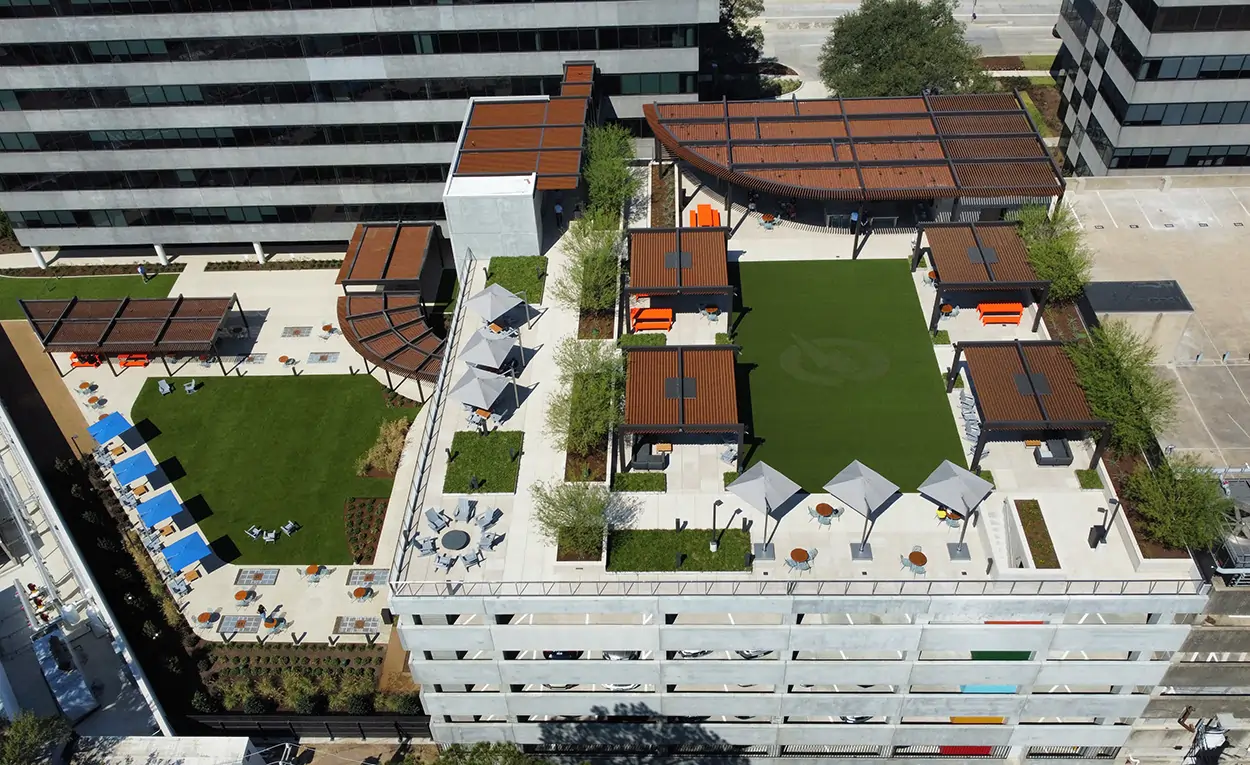 Rooftop, Deck, and Patio Installation
Not sure what to do with the space on your patio, deck, or rooftop? Installing artificial turf from SYNLawn San Antonio will allow you to transform these empty spaces into your new favorite oasis. Bring family, friends, and co-workers over for a barbecue, to relax by the pool, or to have drinks on the roof under the stars. Our products meet our stringent safety standards and are highlighted with the coveted E-108 Class A fire rating from ASTM for additional safety.
Contact Us to Schedule a Free Artificial Grass Consultation!
SYNLawn San Antonio provides high-quality artificial grass with affordable pricing and payment plans available for homes and businesses in Shavano Park, TX. We have spent years exploring the possibilities of synthetic grass to provide versatile options to residential and commercial customers. We take pride in our meticulous installations, and all of our products are backed by our unmatched limited lifetime warranty. For more information about Shavano Park artificial grass, contact us today to schedule a free consultation!
Please fill out all mandatory fields with an astrerisk *
Your information will be held confidential with our company.