San Antonio, TX, Playground Turf
Increase safety and accessibility standards for children while maintaining a pleasing aesthetic in high-traffic areas.
Due to its low maintenance qualities and protective padding, SYNLawn San Antonio's playground turf has been gaining popularity throughout San Antonio, Texas. In addition to its safety features, it can withstand heavy use and does not require watering or trimming. Consequently, it has become the preferred choice for playgrounds at schools, parks, daycare centers, restaurants, and other places where kids play. Parents and caretakers can now enjoy peace of mind knowing their children are afforded further protection against injury from trips, falls, tumbles, spills, and microbes.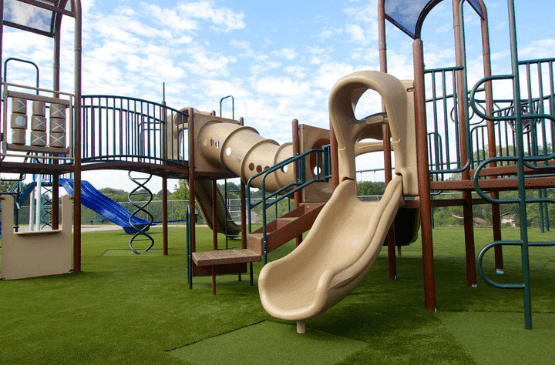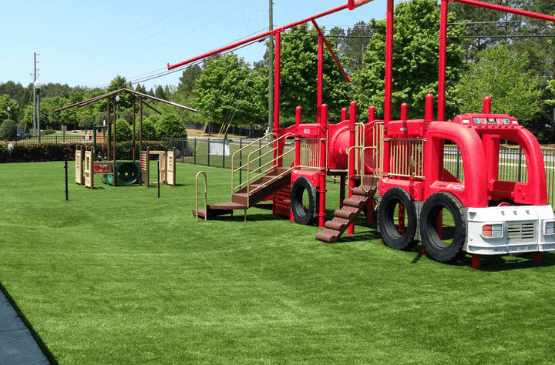 SYNLawn San Antonio's playground turf can be custom-designed to fit your specific community playground needs. Each turf we install passes through rigorous quality controls and must adhere to strict safety standards. This is because we take each parent or caretaker's safety concerns seriously. Contact us today for more information on how we can design a wonderful playground turf and play space for your home or business that will be a joy for everyone.
Residential Backyard Playground
Children love to play in the backyard. Whether it's catching up on their after-school playtime, or a birthday party with lots of other kids, you can rest assured our synthetic turf will provide a safe and hassle-free environment. Regardless of the occasion, or their age, they will enjoy the luxurious look and feel of SYNLawn's playground turf, which never withers irrespective of use.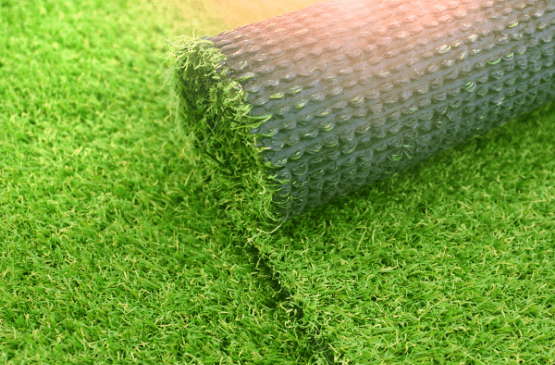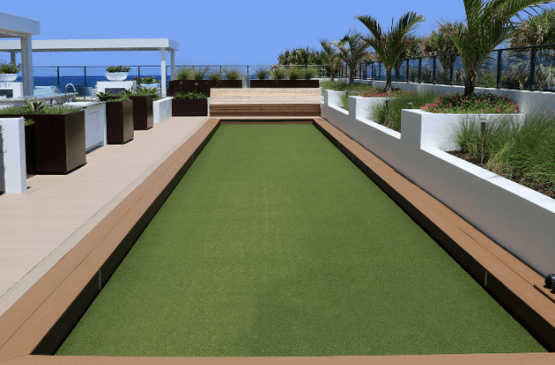 Synthetic turf for playgrounds has gained traction in different commercial establishments in San Antonio. These include parks, schools, child-care centers, restaurants, and more. Let's briefly examine a few of them:
Public and Private Parks
There has been a considerable uptick in demand for synthetic turf in San Antonio parks. This has been largely due to its low maintenance qualities and safety features. Because of the intense activity at park playgrounds, synthetic turf's multi-layered structure affords better protection and helps safeguard against accidental injuries from falls. And because the turf rarely needs to be maintained, parks save tremendously on landscaping costs.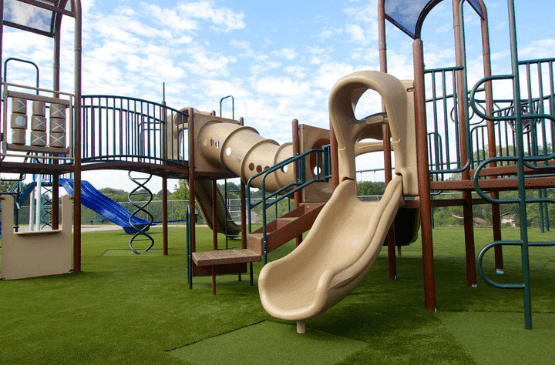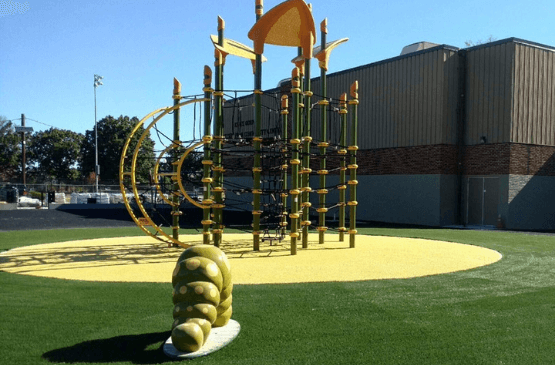 Schools
What's a school without a playground? Like parks, school playgrounds are places of intense activity and foot traffic. But natural grass must be maintained constantly for it to remain aesthetically appealing. This means huge landscaping labor costs. Synthetic turf, on the other hand, does not need to be maintained or watered. There are no landscaping costs to contend with, and the grass maintains its luxurious texture all year long. This makes it ideal for school playground turfs in San Antonio.
Child Care Centers
Safety is undoubtedly at the top of the list for child care centers. This is because, unlike schools, these centers tend to admit much younger children. This naturally elevates the safety risks due to falls, scratches, and allergies. Also, since it can be installed indoors, toddlers can stay and play indoors even in high-pollen or very hot months. Additionally, artificial turf is resistant to liquid spills and other stains.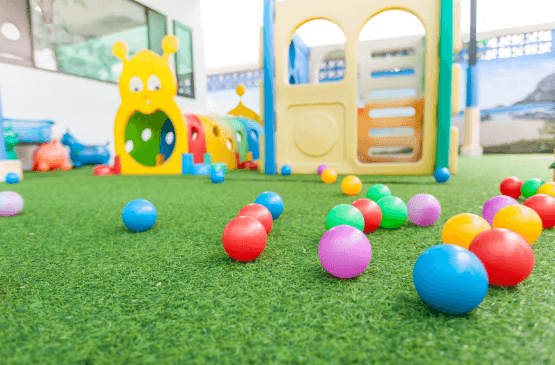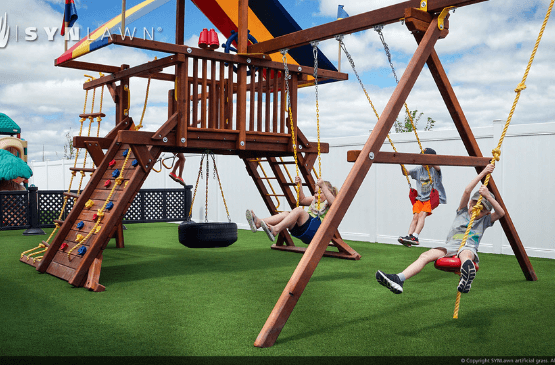 Restaurants
Numerous San Antonio restaurants now incorporate a child's play area. This is because they recognize that many of their customers have children who need to be kept entertained and preoccupied while the parents are eating and having meaningful conversations. Naturally, these play areas must address child safety concerns. The logical remedy is artificial grass. It can be installed indoors and addresses most safety features by cushioning against falls. It also requires little to no maintenance and can remain amazingly green all year long.
Benefits
SYNLawn's Playground and artificial turf delivers several benefits. Let's explore them with some details.
● Made in the USA-SYNLawn is the largest manufacturer of landscape grass, pet turf, playground turf, and synthetic grass in North America. All SYNLawn offerings are proudly manufactured and sold in the United States of America. In addition to the mark of quality that this guarantees, it supports American workers and creates jobs. We offer a full satisfaction guarantee. Plus, we have highly trained technicians install all of our products, which saves you the hassle.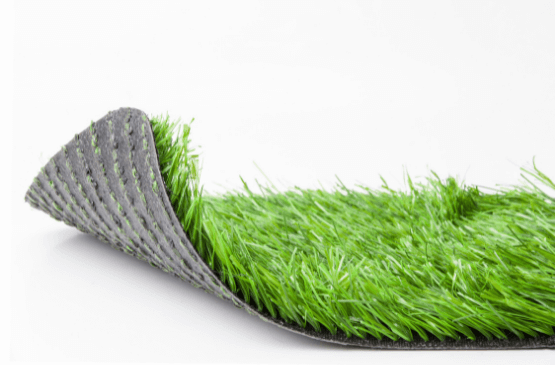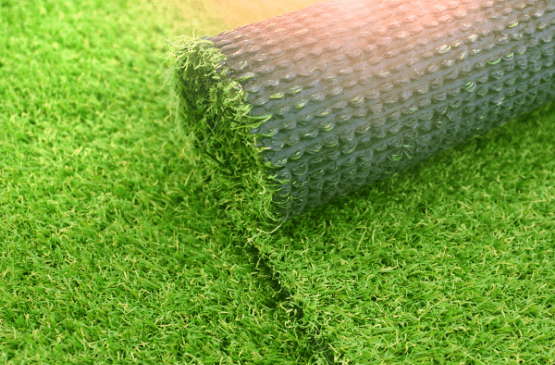 ● Eco-friendly-Our SYNLawn turf and grass products are organic and recyclable. In this day and age of environmental consciousness, our products do not degrade the ecosystem nor contribute to landfills, nor do they burden the environment by using toxic chemicals and other pesticides. Also, no lawn mowing means a significant reduction in carbon emissions and ozone-depleting pollutants. Along with the water-saving nature of artificial turf, this saves thousands of gallons of water from being poured out year after year, compared to the water consumption of a thirsty traditional sod lawn.
● Low Maintenance-Artificial grass greatly reduces landscaping costs. Unlike natural grass, there is no watering, trimming, nurturing, soil treatments, and labor required. The grass remains green and impeccable regardless of use or season of the year.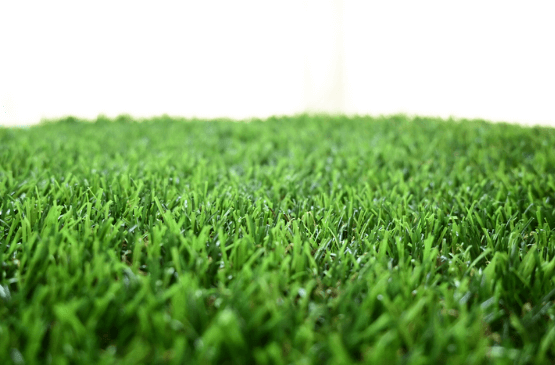 Whether you are installing synthetic sports turf, putting greens, pet grass, or an artificial grass lawn at your San Antonio residence or commercial establishment, you can trust SYNLawn for excellence and reliability. Our complete range of artificial grass and synthetic turf solutions comes with a lifetime guarantee, are environmentally friendly, and afford low maintenance. This makes them ideal for any playground turf application. And because our turf is proudly made in the USA, nothing is subcontracted or outsourced.
Give us a call and ask our friendly San Antonio, TX representatives to schedule a free consultation for you.
As seen on playgrounds and sports tracks commonly, SYNPour™ Poured-in-Place (PIP) systems are the best surfacing solution for safe play areas and athletics. Available in a multitude of colors, SYNPour Poured-in-Place creates a colorful, seamless surface that can be applied almost anywhere. Customizable to fit any space or shape, the design possibilities are limitless and can include fun shapes or team logos.
SYNPour™ PIP is mixed and installed on-site to form a customized, resilient surface to reduce the severity of head injuries and falls from playground equipment. PIP can also reduce joint impact for athletes in training and competition. In addition to safety, reduced maintenance costs are another reason PIP has become a popular option for universities, schools, communities, and municipalities looking to reduce costs while increasing safety. SYNPour is also ADA compliant and wheelchair accessible which equals more fun for everyone.
Common Applications Include: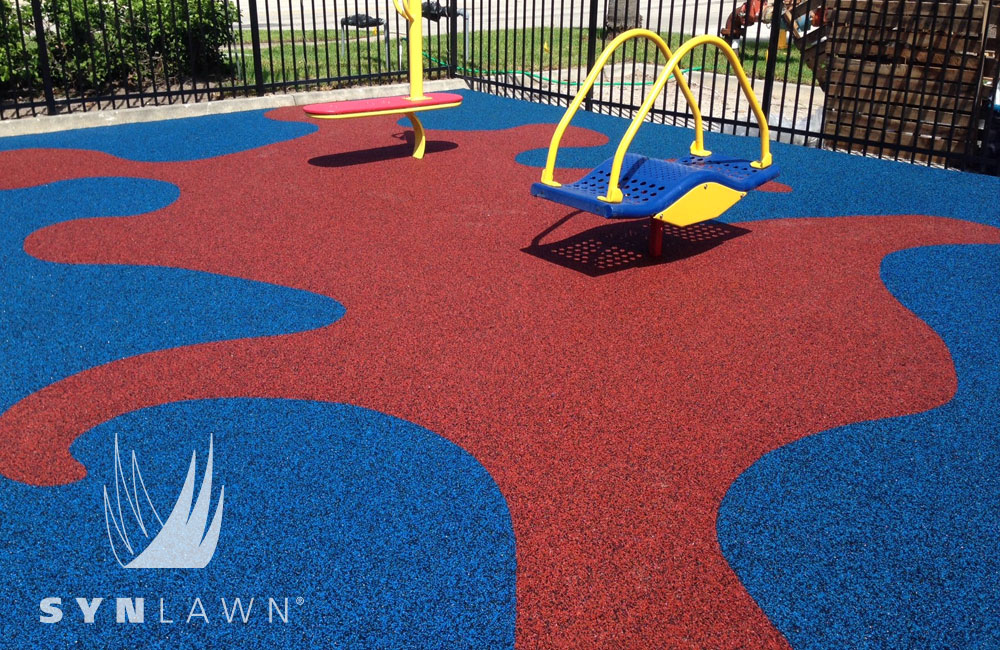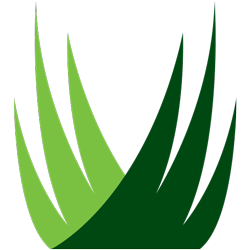 At SYNLawn, we put safety first. Check out our wide selection of artificial grass for playgrounds to find out which product is the best for creating your ideal playground turf.