San Antonio Bocce Ball Court Installation
Over the last few years, bocce ball has grown in popularity in a swift fashion. Once again, SYNLawn is changing the game and introducing their very own line of bocce ball court systems. Its ease of accessibility and its ability to invite players of all ages are what continue to encourage new players to give it a shot. Bocce ball can be enjoyed in a plethora of areas including your backyard, an employee lounge, restaurant patios, and so many others. In addition, San Antonio bocce court installations from SYNLawn, are IPEMA certified so that in the event an accident occurs, you are protected from common injuries and abrasions.
One of the largest benefits of choosing SYNLawn products has always been their low-maintenance design. This benefit directly translates to our San Antonio bocce ball installations. Without the need for maintenance, the beauty of your court will remain intact all year long. Even in the event that it undergoes a vicious downpour, the optimal drainage of our products will prevent mud from building up and allow for immediate use.
SYNPro Bocce
Bocce ball courts need a surface with authentic ball roll, little rebound, proper drainage, and extremely low upkeep. It is the optimal alternative for bocce courts of all skill levels because of its remarkable stability and beautiful appearance. SYNPro Bocce is manufactured with a concrete base for consistent performance and aids in absorbing shock so that you achieve the precise shots you desire. Next, utilizing commercially approved adhesive, we spot glue SYNPro Bocce in place to keep it secure. Finally, to complete your design and give you the option for personal flair, we offer a variety of bumper options for your court.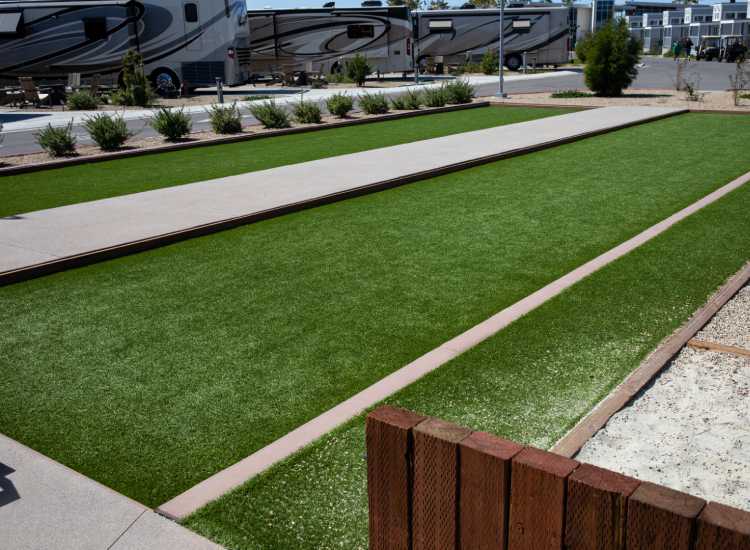 Additional benefits of SYNPro Bocce include:
EnviroLoc+™ backing system
HeatBlock™ technology
UV stabilized, fade-resistant turf yarns
IPEMA certification
Unmatched limited lifetime warranty
Furthermore, as a result of our low-maintenance products, SYNPro Bocce saves our customers substantial time and money. This means once your installation is complete you will never have to trim or mow your San Antonio artificial grass, nor will you have to water it to keep it glowing green. The luxury of our ultra-realistic appearances and behaviors will remain intact all year long. SYNLawn proudly saves our clients an average of 50-70% on their water bills each year which can be especially beneficial in times of drought.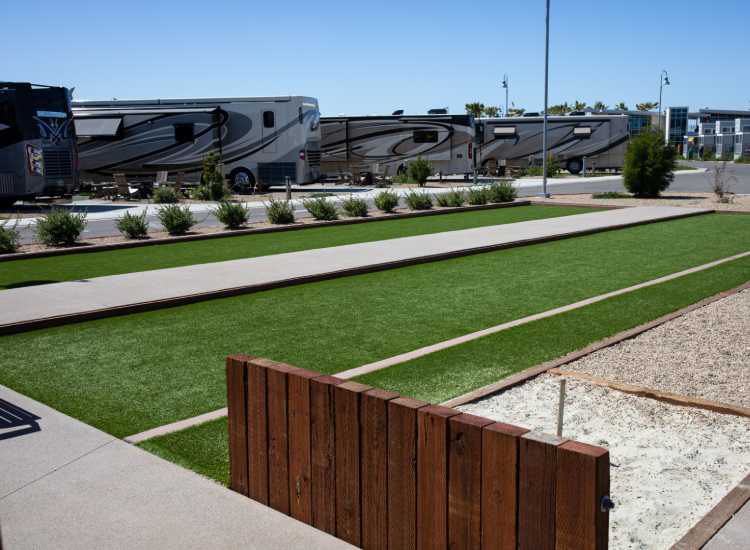 HeatBlock™ Surface Cooling Technology
Ideally, bocce ball enthusiasts would like to be able to pick up a game whenever the time feels right. During the summer, we try to stay as comfortable as possible and sometimes that means barefoot in a bathing suit. Warmer climates and extended exposure to the sun can cause traditional grass and alternative turf brands to heat up and become uncomfortable. Much like dark clothing, grass and other grass alternatives can absorb sunlight rather than displace it. SYNLawn's exclusive HeatBlock technology is proven to reduce surface temperatures up to 20% cooler than any competing brand to date..
LEt us handle your mini golf installation
SYNLawn is dedicated to providing solutions for all aspects of our lives. From luxurious aesthetics to athletic performance. We are dedicated to providing meticulous installations and unparalleled customer service. For over 50 years, SYNLawn has dedicated itself to its customers as well as exploring new opportunities for artificial grass that bring any design dream to life. We work closely with landscape designers, architects, construction companies, general contractors, and more to provide the safest, cleanest, and greenest surroundings available today.
For more information about our San Antonio bocce ball court installation services, contact us today to schedule a free consultation!
Please fill out all mandatory fields with an astrerisk *
Your information will be held confidential with our company.