San Antonio Artificial Grass for School Playgrounds and Landscapes
Today, schools and school districts are realizing that traditional grass is not a viable option for their landscape designs. The heavy foot traffic, intense training athletes undergo, consistent sunlight and more, make it very difficult to maintain the luxurious look of greenery desired. When you add SYNLawn San Antonio artificial grass and playground turf to your schools, you can enjoy several features and benefits not found in traditional sod or competing turf brands. No more maintenance, no more holes, no more mud, and no more fading.
The Most Technologically Advanced Artificial Turf in San Antonio, TX
Designing and installing a school landscape necessitates the highest level of safety for students and faculty as well as providing long-lasting amenities, low maintenance lawns and more. SYNLawn artificial turf offers more than 50 years of dedicated research and development that have led to the creation of cutting-edge technologies that provide schools with a landscape solution the offers unrivaled cleanliness, safety, durability, lush and vibrant aesthetic, and much more.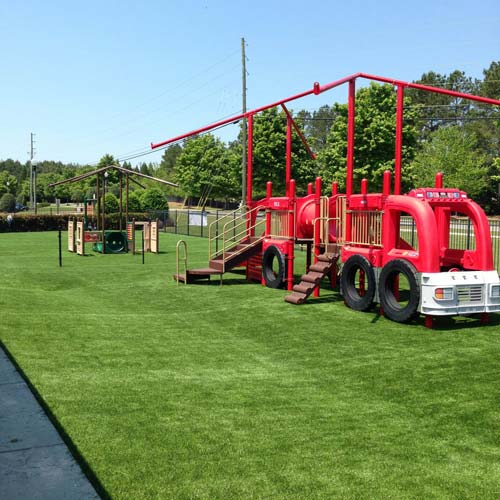 Super Yarn protects our children, the faculty of the school, and guests from bacteria that cause ailments like staph and helps them avoid static shock when they play on our surfaces. Super Yarn is the result of three molecularly bound components. First is the incredibly powerful antimicrobial by Sanitized® that eliminates up to 99% of bacteria.
Next, is DualChill IR reflective technology that reflects infrared light to prevent the accumulation of heat and prevent colors from fading. SYNLawn products provide the strongest warranty against reflective light. Finally, is a silver-based anti-static called StatBlock so SYNLawn landscapes won't shock those who want to relax, practice their favorite sports, and more on our products.
EnviroLoc+™ Turf Backing System
Our relationship with US soy farmers allows us to provide EnviroLoc+ and a wide range of other eco-friendly goods. We locally source materials such as soybean oil and sugar cane to make recyclable artificial grass that conserves water, reduces carbon emissions, and lowers the impact we have on landfills. EnviroLoc+ is our very own turf security system. This two-part polypropylene and polyester woven backing system made with soybean oil is an eco-friendly component that locks in turf fibers to prevent shedding, holes and tearing all year long. This means no more costly repairs to your school's landscapes!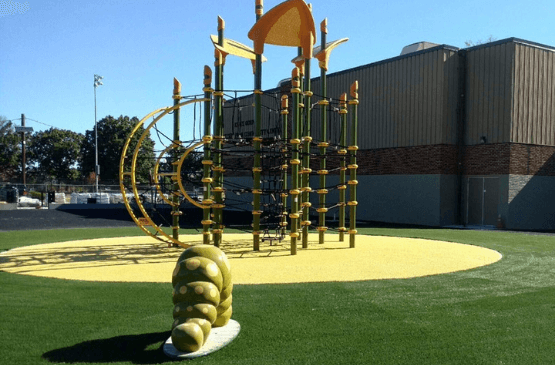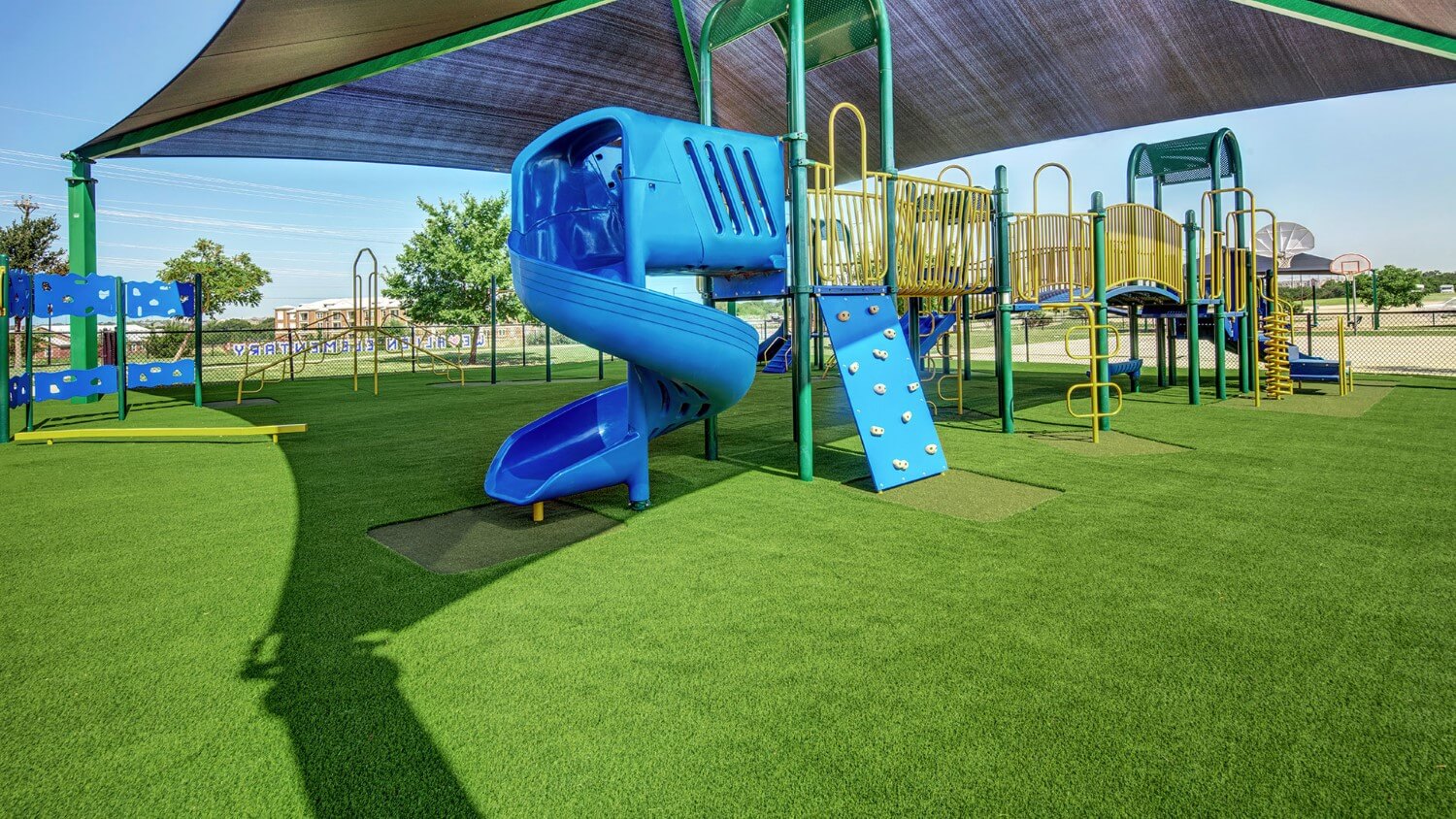 HeatBlock™ Technology
School fields are in direct exposure to the sun all year long. This means that during the summer months traditional grass can become warm and uncomfortable to the touch. That's where HeatBlock technology comes to the rescue. When the sun's rays strike San Antonio artificial grass surfaces, HeatBlock functions as a thermal barrier, reducing surface temperatures by up to 20%. SYNLawn products with HeatBlock provide a softer, less abrasive finish on each grass blade.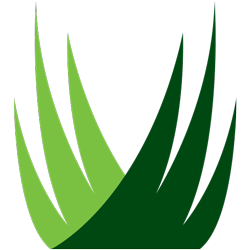 Browse our incredible selection of high-quality products to find the right synthetic turf for your needs.
Sorry, we couldn't find any posts. Please try a different search.
Make SYNLawn Central Texas your first choice for installation at your school or throughout your school district. More and more each day customers are realizing the full potential of our products and the many benefits that come with them. Never settle for affordability over quality when you can have both provided by San Antonio artificial grass. For more information on our products and services, contact us to receive a free architectural kit or to schedule a free consultation today!
Please fill out all mandatory fields with an astrerisk *
Your information will be held confidential with our company.