San Antonio, TX, Artificial Grass Installation
Residential and commercial property owners who make the switch to SYNLawn San Antonio artificial grass are enjoying many more benefits than their neighbors that struggle with real grass lawns. High and rising water bills, substantial amounts of time and money spent on maintenance, mud and dying grass, holes dug in the lawn and more, can all be a thing of the past after installing our premium synthetic grass.
SYNLawn Central Texas customers save incredible amounts of time and money on maintenance along with numerous exclusive turf technologies derived from over 50 years of research and development. These turf technologies provide each SYNLawn artificial turf installation in San Antonio with benefits not found in natural sod or competing artificial grass brands. SYNLawn San Antonio synthetic grass is very low maintenance, offers a natural and vibrant appearance, lush and soft texture, and is versatile enough to work in a variety of residential and commercial applications.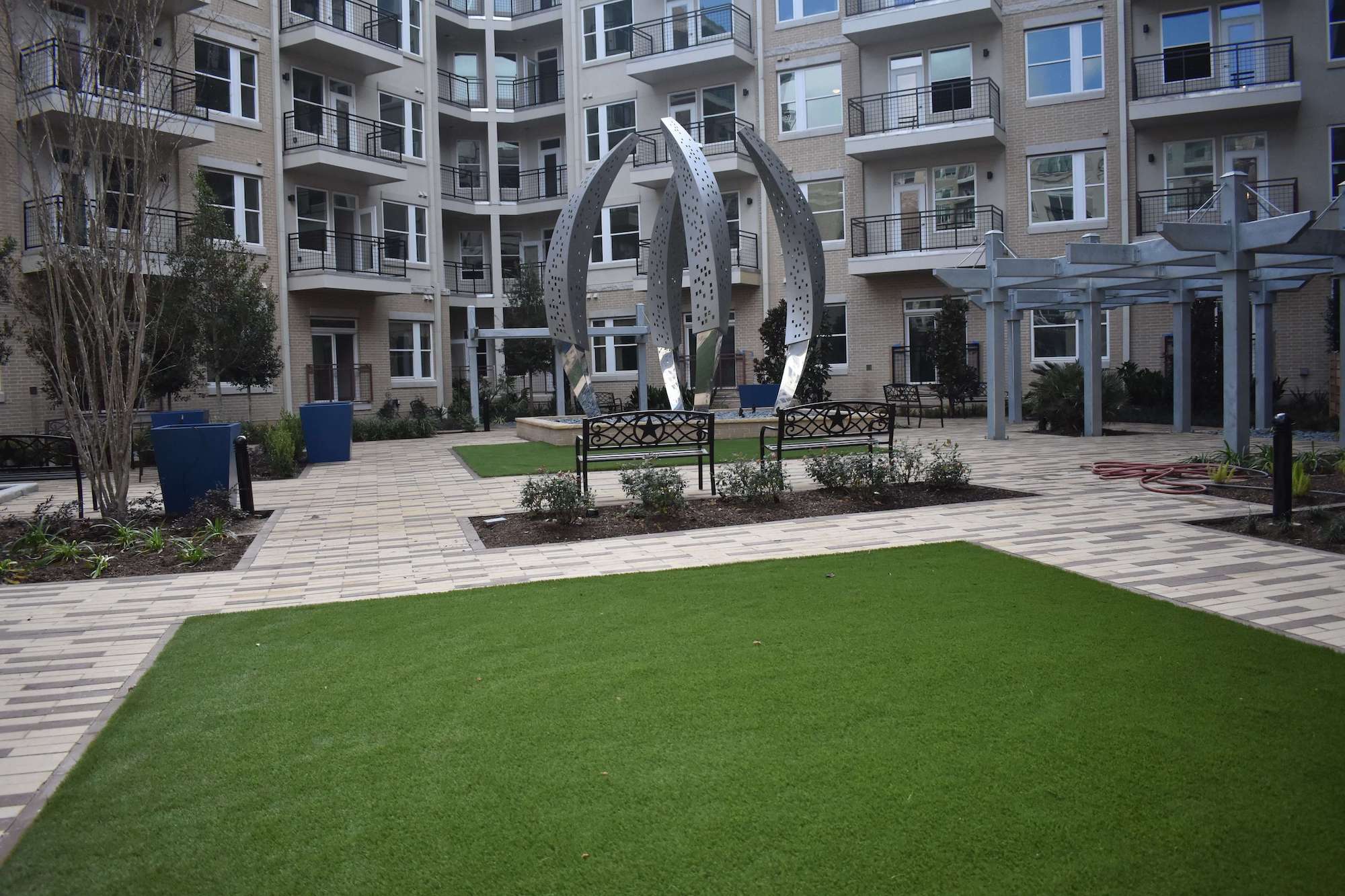 SYNLawn artificial turf in San Antonio is perfect for just about any application by providing exclusive technologies and features such as:
Super Yarn™ technology – the most technologically advanced turf yarn formula made from sugar cane and infused at the molecular level with three turf technologies; Sanitized® antibacterial, DualChill™ infrared light reflection, and StatBlock™ antistatic
Omega technology – natural shaped turf blades designed to provide long-lasting blade integrity
EnviroLoc™ backing - multi-layer backing system made from soybean oil that locks turf fibers into the base to prevent shedding and tearing
BioCel™ technology: soy-based materials that replace substantial amounts of petroleum within our turf
Superior drainage capabilities allow for immediate use after rain and water exposure
Made in the USA
Pet and kid-friendly
Recyclable and eco-friendly
Another important reason why commercial properties choose SYNLawn San Antonio artificial turf for their landscapes is its incredible resistance to heavy foot traffic. With the thousands of guests and visitors that business owners see daily, ensuring that the landscape can continuously accommodate the activity is very important. Whether it's a municipal playground, outdoor shopping center lawn space, San Antonio mini golf course, or school lawn, it is important that those applications can continually endure the heavy use in the long term. The quality of these installations can be a major indicator on whether or not customers will return to the facility time and time again. Through rain or shine, SYNLawn San Antonio synthetic grass products maintain their glow. Each artificial grass and playground turf installation in San Antonio, TX is installed with precision to support a long-lasting commercial landscape.
Although many competitors provide products that can save you time and money on lawn maintenance, SYNLawn is the only company that provides environmentally conscious grass alternatives that are made with up to 80% plant and bio-based contents. As a result, we can proudly offer our clients a collection of products that are USDA-certified. Something no other competitor in the industry offers.
San Antonio Playground Turf Installation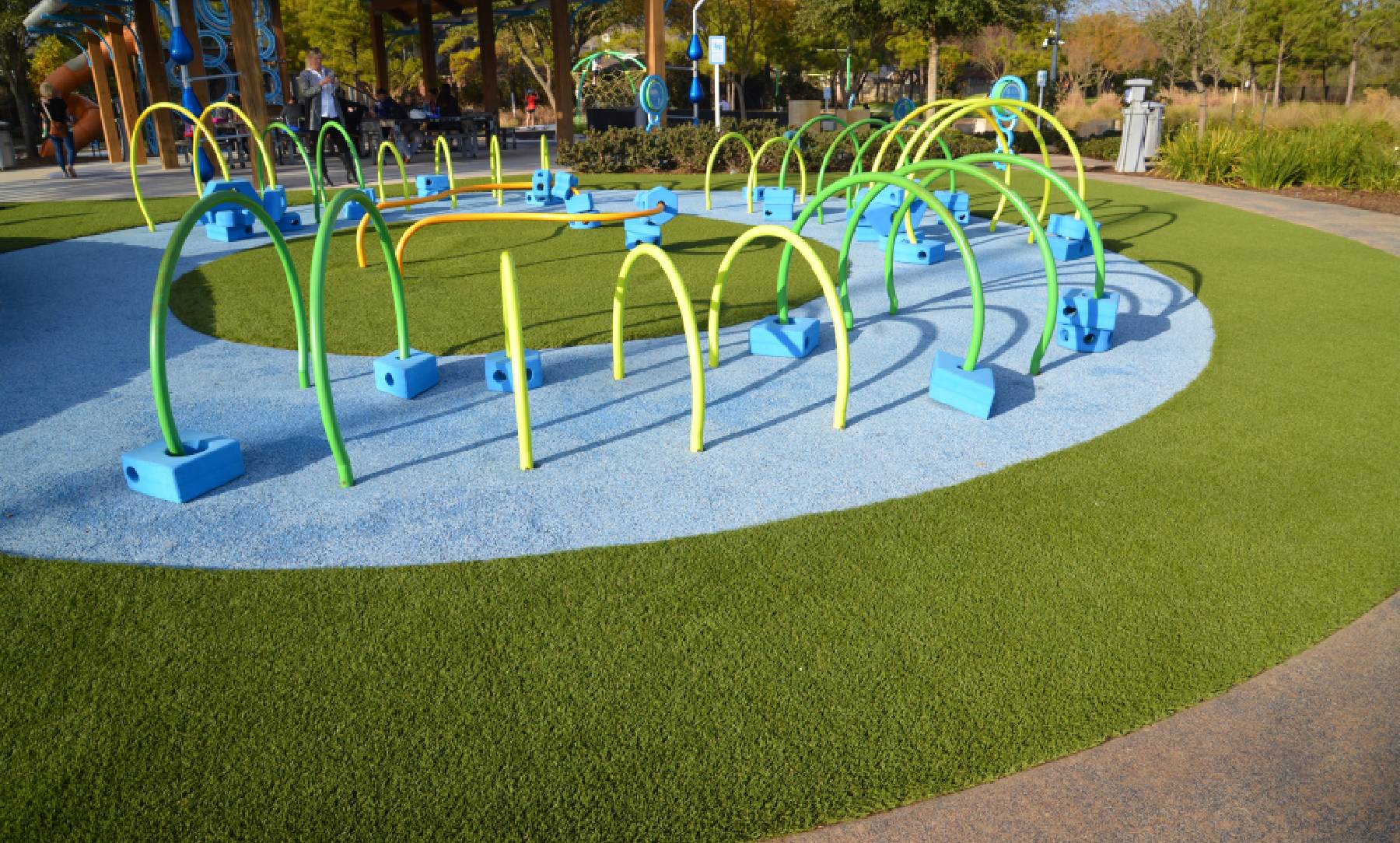 When choosing a playground system, safety is the most important factor to consider. The majority of playground injuries are caused by falls on surfaces that are rough, abrasive, or just hazardous. In response to this, we have created the safest, cleanest, and greenest playground surfaces San Antonio has to offer. Our play system conforms with IPEMA and CSA regulations for fall attenuation and is suitable for all types of playground equipment. Our San Antonio playground flooring is engineered to prevent injuries and provide shock absorption to reduce head injuries and other common injuries from accidents on the playground. Furthermore, much like our other products, SYNLawn playground grass does not require maintenance to remain intact.
ATSM Certified E-108 Class A fire-rated turf
ADA compliant and IPEMA certified
Non abrasive turf fibers to ensure comfortability and safety
FallPad® shock absorbing underlayment system
TrampleZones™ can be added and easily replaced under heavy traffic areas such as swing sets, jungle gyms, etc. for enhanced durability
Perfect for residential and commercial playground applications
IR reflective technology prevents turf from fading and degrading in the sunlight
Designed and installed to withstand the heaviest activity and foot traffic
Requires less maintenance than other playground surfaces in San Antonio
Improve Your Game with SYNLawn San Antonio Golf Greens
We designed our state-of-the-art putting green turf with the help of world-renowned, golf professional Dave Pelz. Together, we engineered golf turf and putting greens with an extraordinarily realistic performance and appearance, making them the top choice for residential and commercial golf greens in San Antonio, TX. Statistics show that 80 percent of your shots are lost to par within the short game. This is where your golf handicap generally comes from. With convenient access to an authentic putting green, you can truly improve your short game to shoot lower scores on the golf course.
Engineered to provide a realistic putting performance, true ball roll, ball bounce, and slow-down properties
Extremely durable turf surfaces for practicing your chipping
Enhanced drainage so water is unable to settle beneath the putting green and wash the base out
Effective drains in each cup to prevent the backfill of water and mold growth
Ability to install tee boxes, sand traps, LED cup lights, slopes and more
Engineered by an ex-NASA engineer to imitate natural grass as close as possible
Monthly payment plans available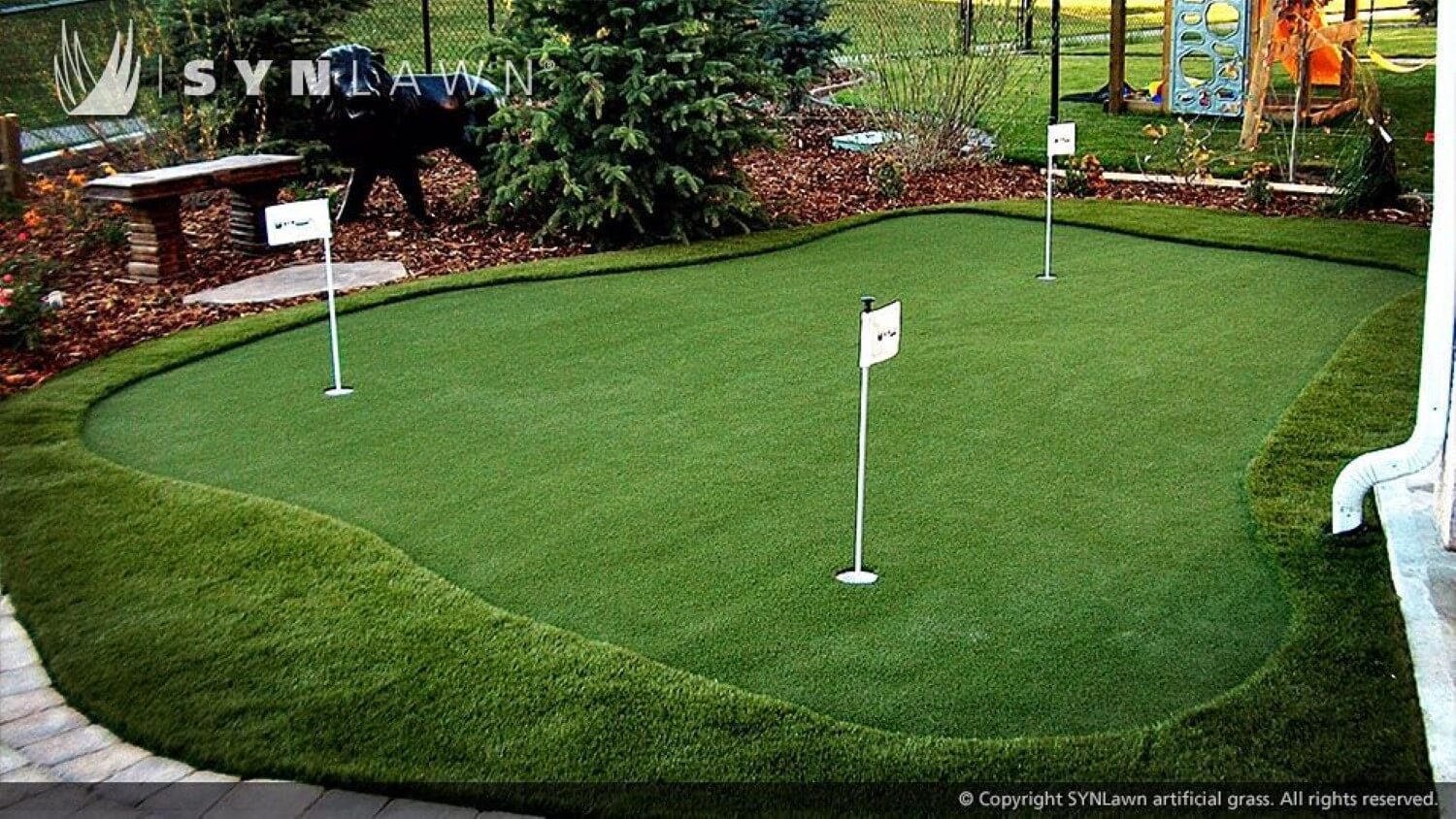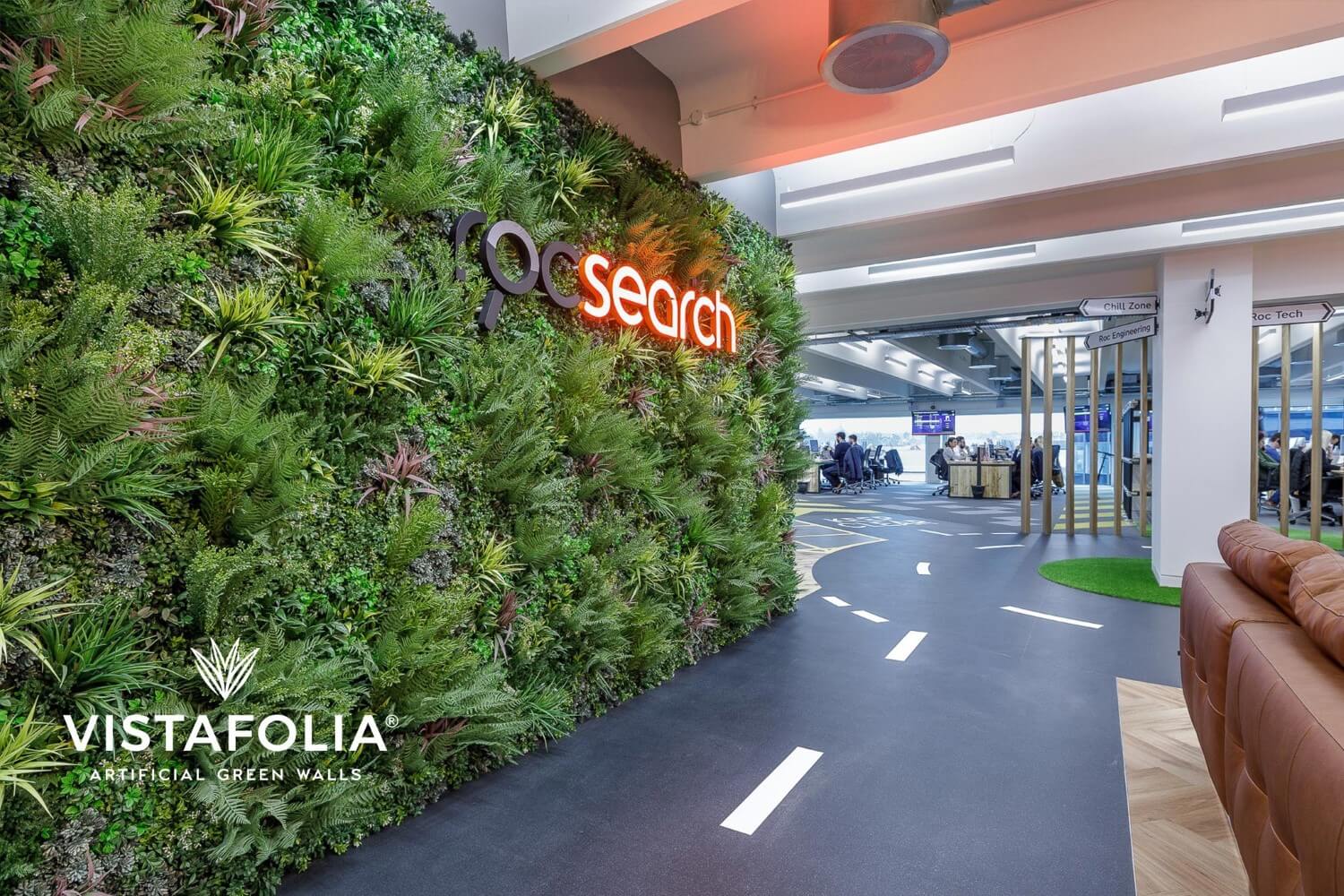 San Antonio Synthetic Green Walls
VistaFolia® artificial living walls in San Antonio, TX provide an elegant touch to your interior designs and landscapes. Traditional vertical gardens need cumbersome irrigation systems and continuous upkeep. With a VistaFolia synthetic plant wall, you can eliminate upkeep while maintaining a lush and realistic appearance throughout the year. Our vertical plant walls are constructed with UV-resistant foliage and installed to endure the most extreme weather conditions.
Pure color pigments that never fade
Unique 3-panel system ensures a natural and seamless wall design
No maintenance or irrigation required
Customizable with 8 varieties of colored blossoms and foliage textures
Provides enhanced noise reduction and privacy screening
Customizable to accommodate complex architectural designs
Can be installed on just about any vertical surface
Suitable for any indoor or outdoor designs
Fire-rated and tested
The Cleanest and Safest Pet Turf in San Antonio, TX
As much as pet owners love their companions, they don't love the costly lawn maintenance and repairs associated with having pets. However, because of our unique EnviroLoc backing and Super Yarn technology, SYNLawn pet turf is far more durable and safer for your dogs than other turf brands and traditional grass. Super Yarn incorporates a powerful antibacterial by Sanitized® that repels fleas, ticks, and other pests while eliminating up to 99% of stain and odor causing bacteria. EnviroLoc+ is made of recyclable materials and prevents grass fibers from shedding and tearing. The optimal drainage capabilities of our pet grass prevent pet urine from pooling on the surface which is what causes stains and odors on turf as well as yellow patches in real grass lawns. San Antonio pet turf installation can additionally provide you with lower water usage, reduced water bills, money saved on maintenance and more. Kiss muddy paws goodbye by choosing the highest quality, pet-friendly artificial grass in San Antonio, TX!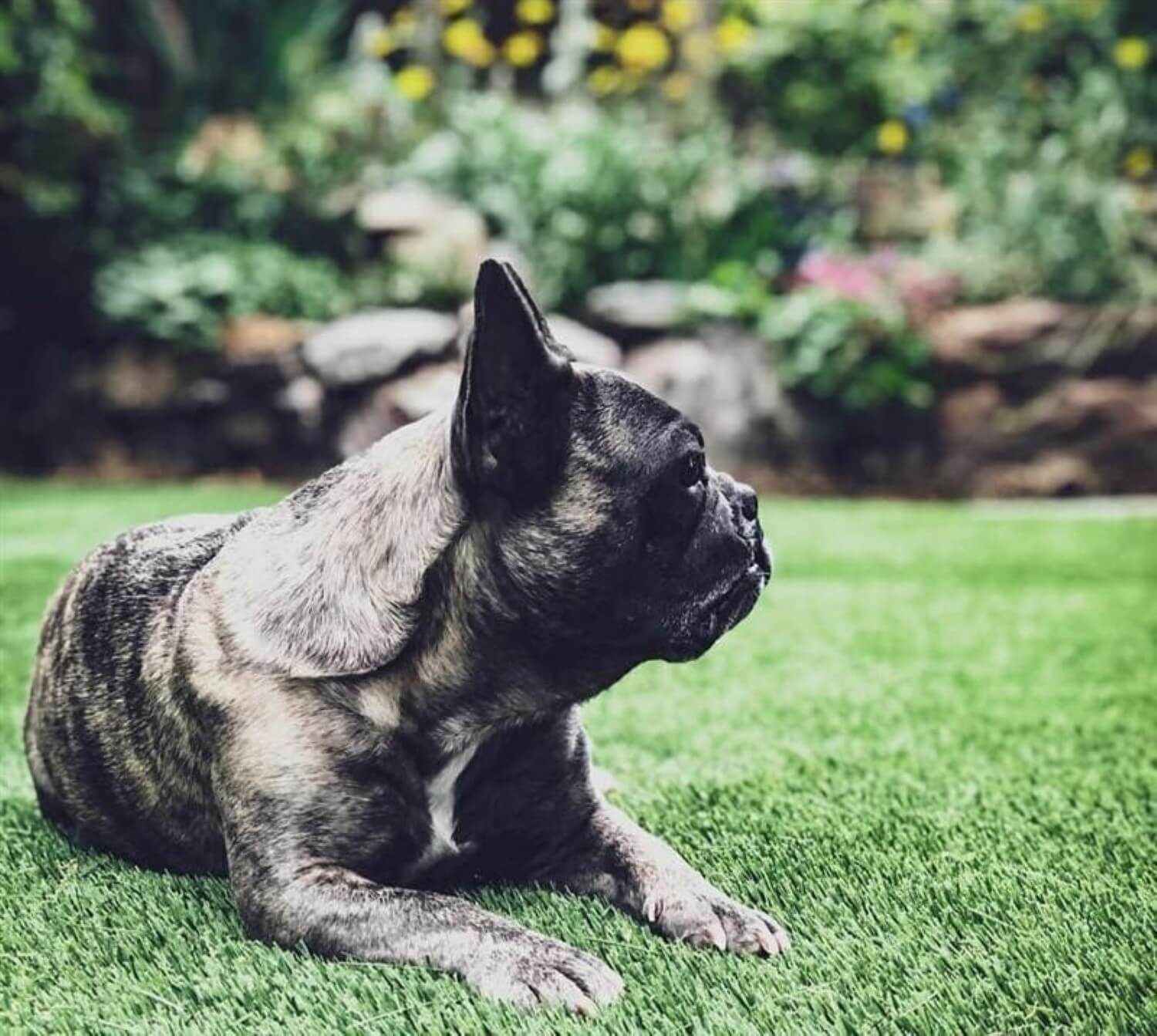 Schedule a Free Consultation Today!
SYNLawn Central Texas is a customer-oriented and environmentally conscious company with decades of experience and turf innovations in the artificial grass industry. As a leader, we understand that it is our responsibility to produce products that benefit not only our customers but our planet.
That is we have become the first synthetic grass company to produce plant-based synthetic grasses that have earned certifications from the USDA for their 60-80% bio-based composition. We work closely with industry leaders and professionals including landscape architects, architects, general contractors and more, to create the safest, cleanest, and eco-friendly landscapes across San Antonio, TX, and surrounding areas.
For more information on our plant-based synthetic grass options or San Antonio artificial turf installation services, contact SYNLawn Central Texas to schedule a complimentary consultation!
Please fill out all mandatory fields with an astrerisk *
Your information will be held confidential with our company.