New Braunfels Artificial Grass Installers
Residential and commercial landscapes across the New Braunfels area are transforming their landscapes with SYNLawn artificial grass. The ultra-realistic appearances and behaviors of our New Braunfels artificial turf is enough to trick the naked eye, making it difficult to tell the difference between SYNLawn and natural grass. Commercial properties especially love our New Braunfels artificial grass as a result of its superior durability and performance under heavy activity.
Business and property owners are focused on providing the best experience for their customers and clientele. That is why they choose SYNLawn synthetic grass to provide a consistently high-quality lawn space that doesn't suffer from common lawn obstacles such as mud, dead grass, reseeding, and frequent mowing requirements. Not only does SYNLawn artificial turf save time and money on maintenance crews and equipment, but it helps conserve substantial amounts of water annually. On average, our customers save up to 50 to 70 percent on their water bills after their New Braunfels artificial grass installation is complete.
We work closely with US farmers to locally source renewable materials to make our synthetic grass recyclable and eco-friendly. As a result, we have become the first and only distributor of USDA certified artificial turf on the market today with more than 60% bio-based materials within our products.
In addition, New Braunfels artificial grass from SYNLawn includes a number of exclusive technologies and benefits, including:

SuperYarn turf yarn technology features three revolutionary technologies that aid in the prevention of bacterial build up, static build up, and fading in direct sunlight
Santizied® antimicrobial in SuperYarn actively eliminates stain and odor causing bacteria and prevents mold growth
DualChill technology prevents the absorption of infrared light to prevent fading and acts as a thermal shield to provide cooler surface temperatures
HeatBlock technology actively works to reduce thermal buildup and is scientifically proven to provide up to 20% cooler surface temperatures than competing brands
EnviroLoc backing system locks turf fibers into the base and prevents shedding and tearing
High durability in heavy foot traffic areas and tough weather conditions
Hyper-realistic turf fibers made from sugar cane to look and feel like real grass
Increased living spaces by utilizing and enhancing unused areas
Kid and pet-friendly landscape solutions perfect for playgrounds, play areas, and dog runs
Promotes environmental friendliness, water conservation, and carbon footprint reduction
Made in the USA from plant-based materials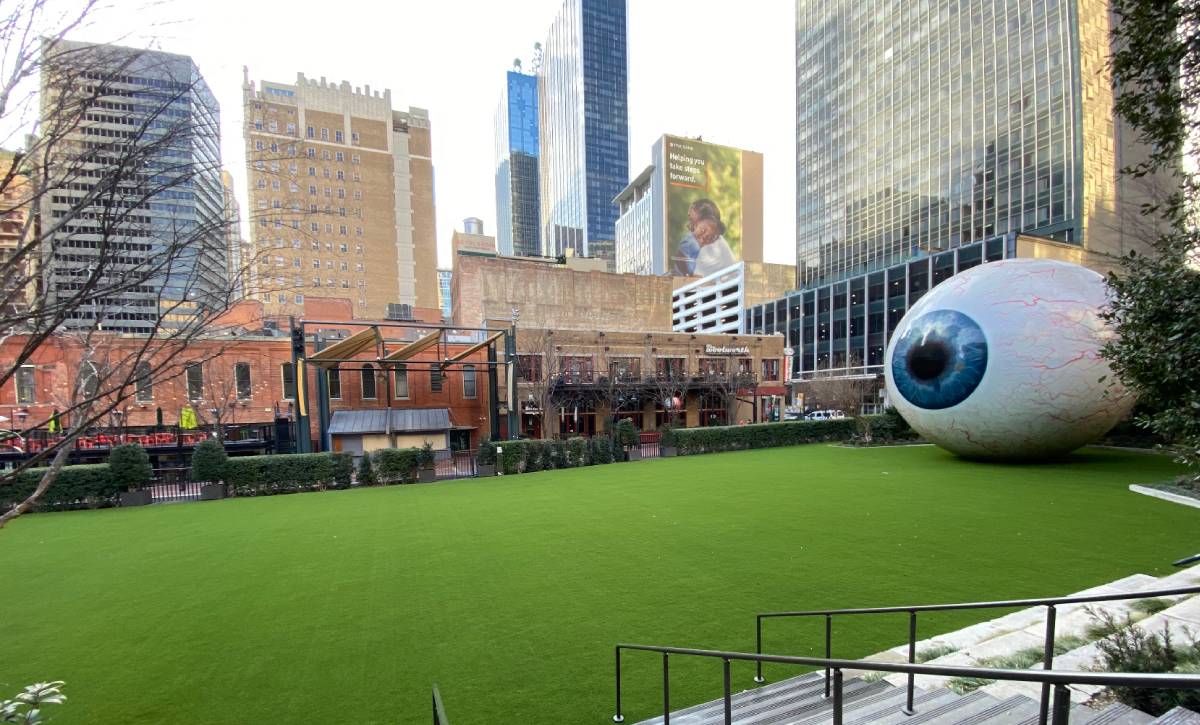 Custom Putting Green Installation in New Braunfels, TX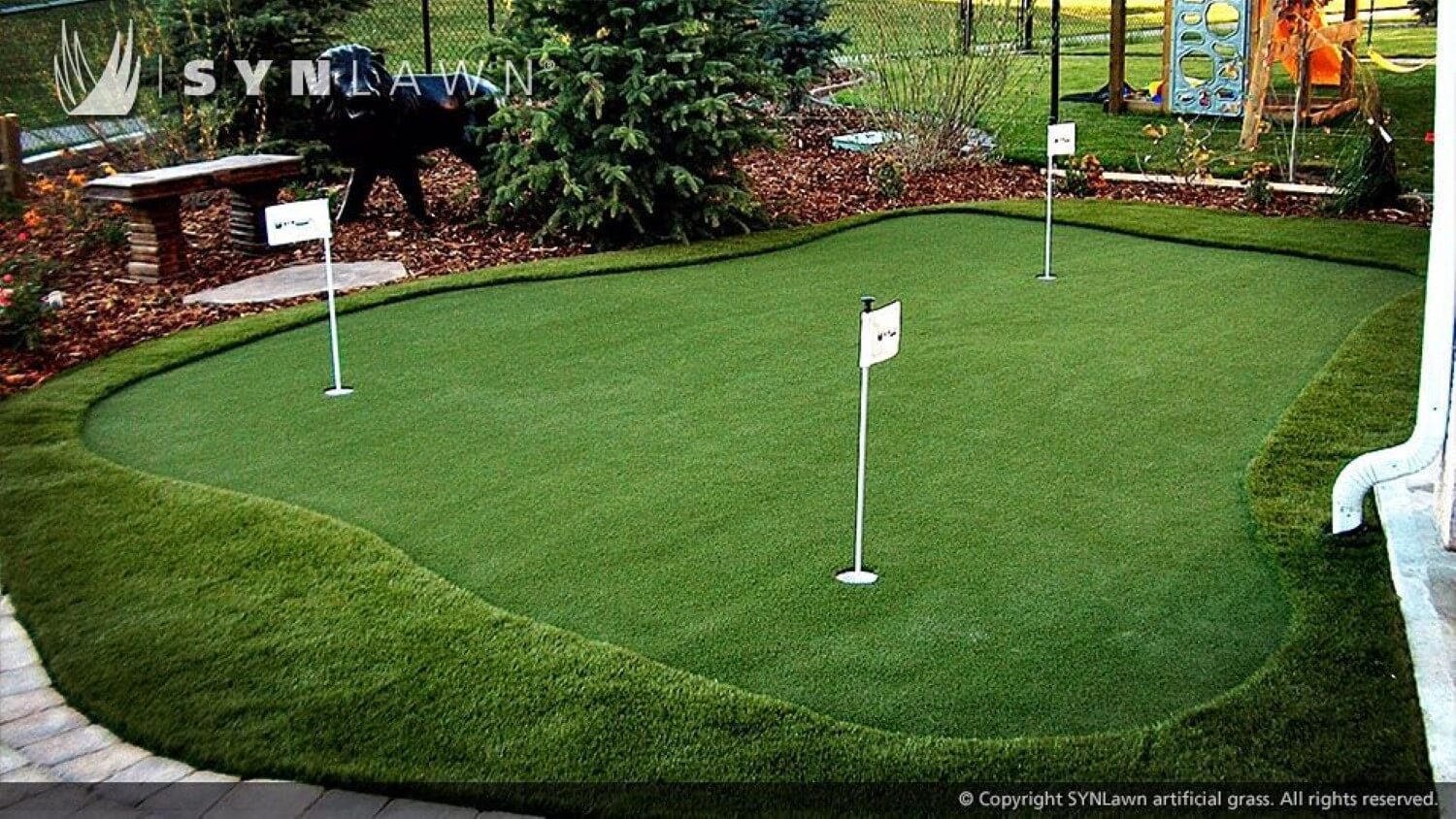 Golf enthusiasts understand how important it is to play on a surface that will provide superior durability and high performance throughout the year. That is why golf courses spend so much time and money maintaining lush golf greens. In response to this, SYNLawn partnered with legendary golf coach Dave Pelz to create PGA-caliber golf green turf that is adaptable to fit any space while providing the highest caliber performance. SYNLawn golf greens are designed to handle intense foot traffic as well as provide a surface that can withstand any number of putts, chips, and strikes, allowing you to hone in and perfect your short game skills.
Each SYNLawn putting green installation in New Braunfels, TX provides an authentic performance alongside customization options, minimal maintenance requirements and more. Features include:
Realistic putt with a true ball roll, ball bounce, and slow down properties
Extremely durable surface to practice putting and chipping
Perfect for all ages and skill levels
No water can settle beneath the putting green and wash the base out
Effective drains in each cup prevent backfill of water and mold
Ability to install LED cup lights and custom flags
Add sand traps, tee lines, tee boxes, slopes, obstacles, and more
Engineered by an ex-NASA engineer to imitate natural grass as close as possible
Monthly payment plans make it more affordable than ever to have convenient access to a PGA-caliber golf green
New Braunfels Playground Turf Systems
SYNLawn playground surfaces in New Braunfels were designed with ADA compliance and IPEMA certification in mind. By providing you with slip-resistant surfaces that can protect children from common injuries and falls of up to ten feet, SYNLawn is able to drastically increase the safety of any playground installation in New Braunfels and surrounding areas. Our playground grass features Sanitized® antimicrobial technology to eliminate germs and bacteria to provide cleaner kids with cleaner surfaces to play on. Our playground surfaces are the most kid-friendly in the business and provide several unique benefits such as:
Made with recyclable and eco-friendly materials such as sugar cane and soybean oil
Non-abrasive and soft surface fibers
StatBlock™ carbon-based anti-static component that prevents the transfer of static electricity from metal objects such as play equipment to turf surfaces
HeatBlock™ reduces thermal build up providing playgrounds with cooler surface temperatures
Add shock absorption cushioning beneath the playground turf for further injury prevention
Reduce head injuries and common injuries that could occur during playtime
Safer playground surface than alternative playground flooring options
Hypoallergenic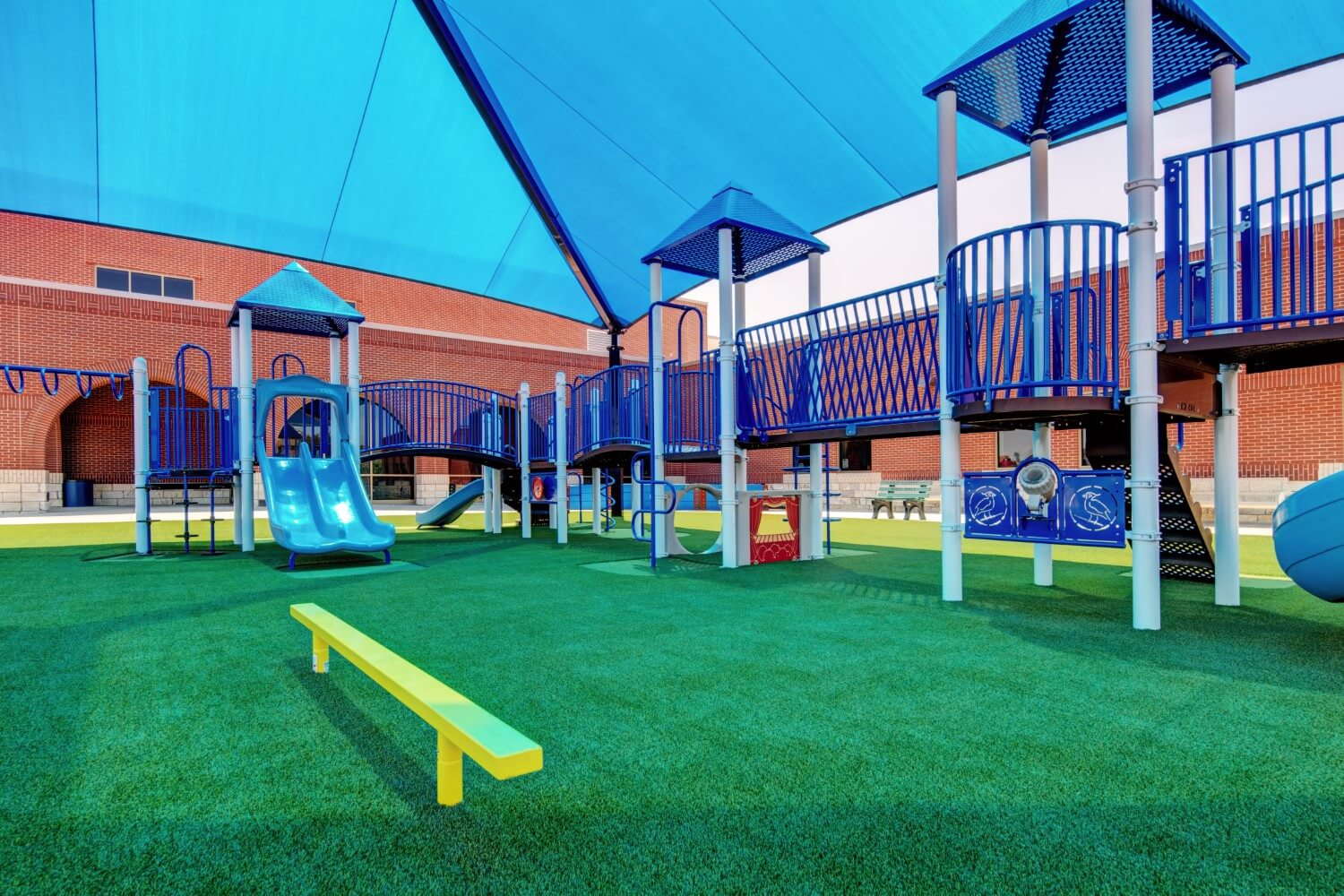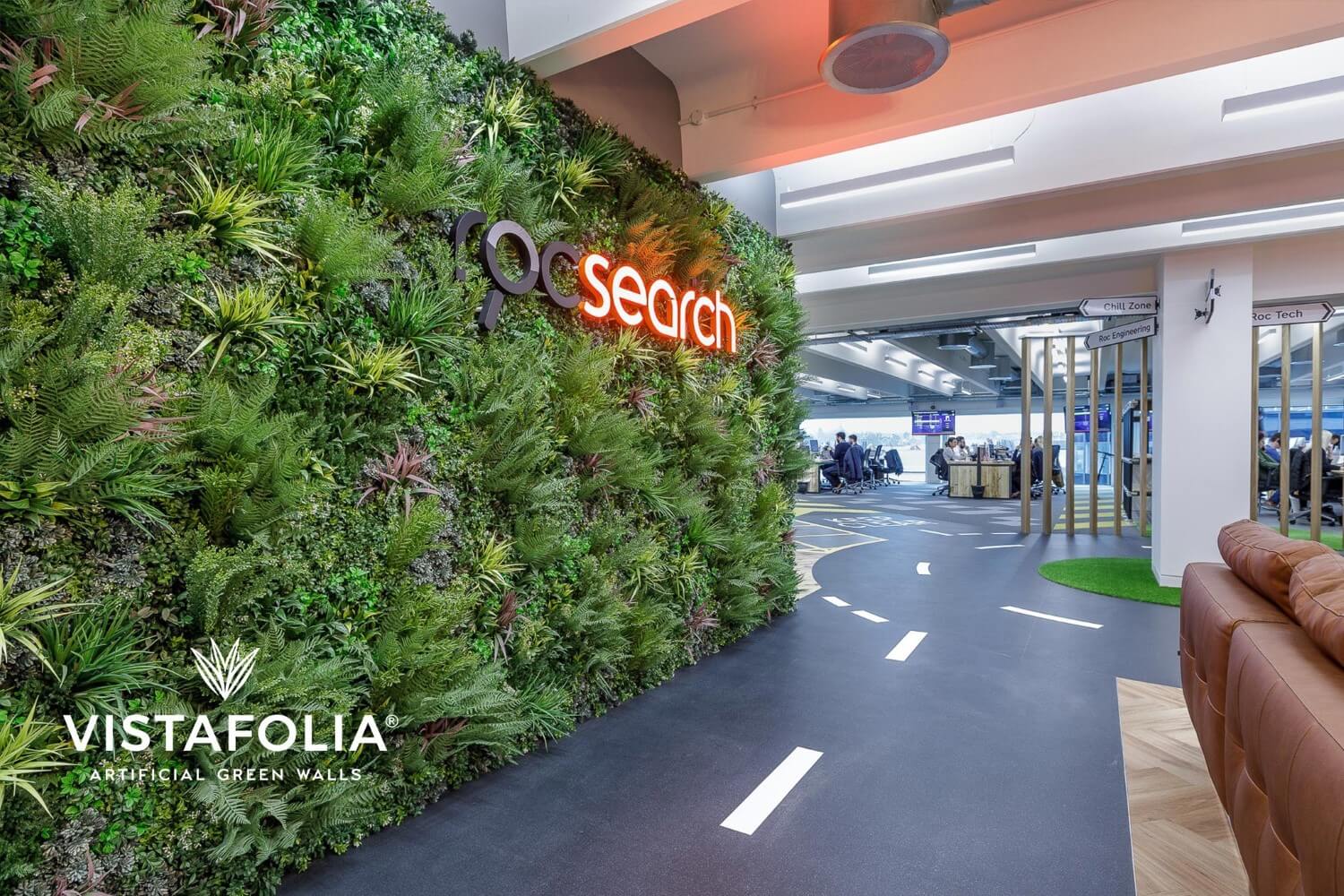 Synthetic Green Wall Installers in New Braunfels
VistaFolia artificial green walls are perfect design enhancements for interiors and landscapes throughout New Braunfels, TX. VistaFolia artificial living wall panels are designed to replicate the natural look and behavior of real plants without the need for expensive irrigation and maintenance requirements. Our hyper-realistic faux plants combine seamlessly with our proprietary three panel design to create cohesive living walls that enhance any space, offer noise reduction, and add additional privacy. Additionally, our UV-stabilized foliage is engineered to withstand all weather conditions and stay vibrant even after several months of direct sun exposure. Our New Braunfels synthetic greenery walls will retain their brilliance for years to come.
New Braunfels Pet Turf for Dog Runs and Dog Parks
Pet owners love the joys of having a companion. However, our landscapes can suffer from roughhousing, zoomies, pet waste and digging that often leads to muddy paws in the house. New Braunfels pet grass eliminates muddy paws, fleas and ticks, and costly landscape repairs. Our revolutionary pet turf systems utilize exclusive technologies and do not require watering or mowing. With pet-friendly artificial grass from SYNLawn, your backyard dog run, or commercial dog park will remain beautiful for decades!
Advanced drainage capability allows for immediate use after it rains, prevents pet urine from accumulating on the surface, and allows for easy cleaning
Envirofill® infill is used to eliminate and actively prevent the buildup of stain and odor-causing bacteria
Manufactured with renewable and plant-based materials that are safe for pets
Superior durability prevents pets from digging holes in the lawn
HeatBlock and DualChill IR reflective technologies act as a thermal shield to provide pet-friendly lawns with cooler surface temperatures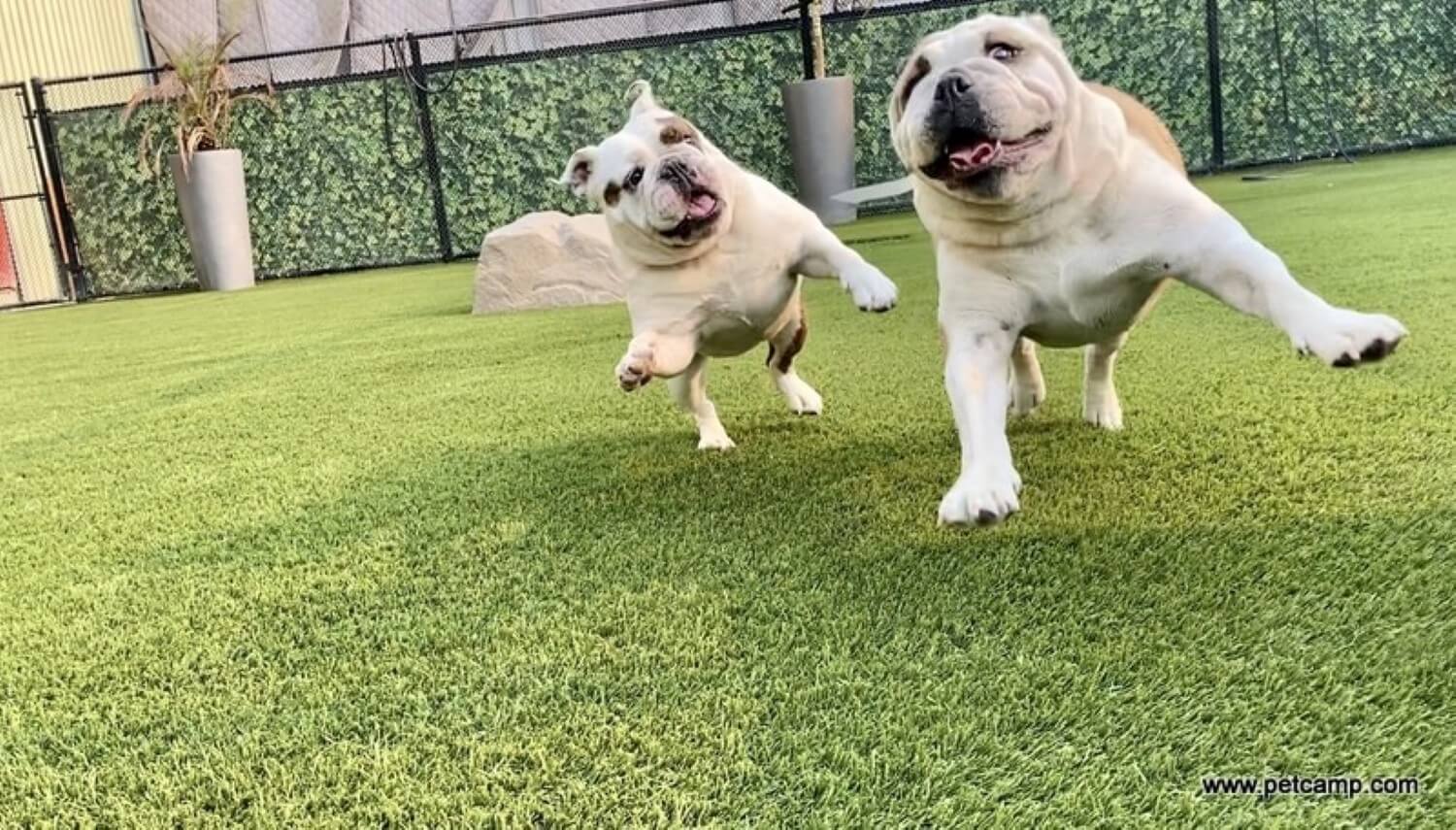 Schedule a Free Consultation Today!
SYNLawn has dedicated more than 50 years of research and development to its products, so that we can provide the most technologically advanced, kid and pet-safe, and environmentally responsible artificial grass in New Braunfels, TX and surrounding areas. We partner with local landscape architects, general contractors, pool builders, landscape designers, preschools and day cares, municipalities and more, to provide only the highest caliber artificial grass and putting green installations in New Braunfels. For more information, contact SYNLawn Central Texas today and schedule a free consultation!
Please fill out all mandatory fields with an astrerisk *
Your information will be held confidential with our company.